SVMF and MTAS is fused since the 1 of Januari 2019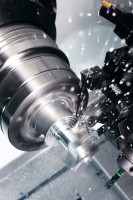 SVMF is the trade association for importers and suppliers/machine tool manufacturers, 
sheet metalworking machines, tools, test and measurement tools, automation/robot, peripherals and additives manufacturing in 
metal.
SVMF also has members in academies.
SVMF has 80 members.
The member companies have a turnover of approximately SEK 5 billion in Sweden and at least as much through exports.
The secretariat is located within the Swedish Engineering Association, joint trade and employers' association with some 4 000 member companies which represent a third of Swedens export.